"All human beings are my neighbors.
We share the same planet."
Ana Monnar
… but this post will I share the beauty of my Scandinavian neighbor's music.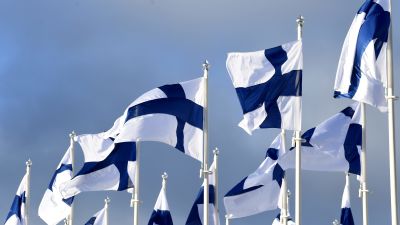 I start with Finland, a country that I only have to visit a couple of times and then only to Helsingfors … but it's a country with magical greatness when it comes to nature … and it's called the land of the 1000 lakes. No wonder Santa wants to live there and this year is the Finish people the happiest people in the world.
Norway, Denmark and Sweden, we can understand each other – but the Finish language is a totally different ball game. The Finish like their vodka, coffee (they are the biggest coffee drinker in the world), to dance tango … and they are famous for their designs.
"Ei ole väliä kuinka hitaasti etenet kunhan et pysähdy."
( It does not matter how slowly you go as long as you do not stop.)
"Finlandia, Op. 26" is a symphonic poem by the Finnish composer Jean Sibelius (1865 – 1957). The first version was written in 1899, and it was revised in 1900. The piece was composed for the Press Celebrations of 1899, a covert protest against increasing censorship from the Russian Empire, as the last of seven pieces, each performed as an accompaniment to a tableau depicting episodes from Finnish history.
The premiere was on 2 July 1900 in Helsinki with the Helsinki Philharmonic Society conducted by Robert Kajanus. A typical performance takes anywhere from 7½ to 9 minutes.
Please take the time to watch this stunning video – just what Finland is all about and enjoy one of the powerful and beautiful classical music pieces there is.
"Finlandia Hymn" (Be Still My Soul) was at first the final part of the poem, but Sibelius later reworked the Finlandia Hymn into a stand-alone piece.
Often incorrectly cited as a traditional folk melody, the Hymn section is of Sibelius' own creation. Although he initially composed it for orchestra, in 1900 Sibelius arranged the work for solo piano.
This hymn, with words written in 1941 by Veikko Antero Koskenniemi, is one of the most important national songs of Finland. Today, during modern performances of the full-length Finlandia, a choir is sometimes involved, singing the Finnish lyrics with the hymn section. This gives me goosebumps all over! *smile
Now we step over the border to Norway – we all 3 share border up by the Polar Circle. Norway and the Norwegians … a class on its own. A very rich country, they say that Norway is the only country in the world that doesn't have any foreign debt.
"Du kan aldri krysse havet før du har motet til å miste synet av kysten."
(You can never cross the ocean until you have the courage to lose sight of the shore.)
The Norwegians are such friendly and pleasant people … to meet a Norwegian for the first is like you have known him for all your life. So social … and they love the outdoors … and they love hiking and skiing.
Edvard Grieg (1843 – 1907) – Peer Gynt – Suite No. 1, Op. 46 – I. Morning Mood- Suite No. 1, Op. 46 – I. Morning Mood.
"Morning Mood" is part of Edvard Grieg's Peer Gynt, Op. 23, written in 1875 as incidental music to Henrik Ibsen's play of the same name, and was also included as the first of four movements in Peer Gynt Suite No. 1, Op. 46.
As the Peer Gynt suites take their pieces out of the original context of the play, "Morning Mood" is not widely known in its original setting, and images of Grieg's Scandinavian origins more frequently spring to the minds of its listeners than those of the desert it was written to depict.
My closest neighbor is Denmark, it's only a bridge and tunnel between us. I visit so often I have a chance … love everything about Denmark (expect that the Danish krona is so expensive). In 1968 I moved to Denmark and there I got my platform to develop into a great chef (not the greatest, but great). 20 years old and knew very little about life – but Copenhagen and Denmark was a fantastic teacher.
"Hvad end menneskets sind forestiller sig og tror på så kan det opnås."
(Whatever the mind of man can conceive and believe, it can achieve.)
The Danish has been considered as the happiest people in the world for a couple of years, now in second place after Finland. Sweden on the 7th.  The Danish are very easy going people … and they are happy so long as they have great food, beer, and  "en lille en" (an Akvavit snaps) … and they love to cycle (they have second most bicykles in the world).
Hans Christian Lumbye (1810 – 1874) was a Danish composer of waltzes, polkas, mazurkas, and galops, among other things. He was called the "the Johann Strauss of the North".
When Copenhagen's Tivoli Gardens amusement park opened in 1843 (a year before the debut of Johann Strauss II in Vienna) Lumbye and his orchestra became one of its fixtures, and he remained as conductor until deafness forced his retirement, two years before his death.
It was for a different kind of opening that Lumbye composed the piece we hear this evening. The "Copenhagen Steam Railway Galop" was his contribution to the festivities surrounding the inauguration of the first Danish railway line, running between Copenhagen and Roskilde, in 1847.
"We have a great deal to learn from Scandinavia
and a great deal to be alarmed at from the Mediterranean."
Gore Vidal
(information and text: wikipedia.org)